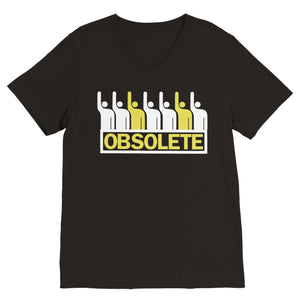 "Fight the Future" Premium Unisex T-shirt
The "Fight the Future" Premium Unisex T-shirt isn't just a bold fashion statement—it's an ironic battle cry on soft cotton. With each pin-shaped humanoid marching towards obsolescence, it's a wearable manifesto against the sedentary slide into the digital abyss.
Clad in this shirt, you're not just another face in the crowd; you're the leader of a silent revolution, a beacon of hope in a sea of automated monotony. It's a reminder that we're in this together, soldering the circuits of camaraderie to forge a better tomorrow.
This isn't just a garment; it's a declaration that the future is a game and we're all on the same team. So suit up in this tee and show the world that while tech may be relentless, so is the human spirit. Plus, it's the perfect conversation starter at parties—assuming social gatherings haven't been relegated to the annals of history by our robot overlords.